Summer Recipes for Your Next BBQ!
It's been an interesting few months for the entire world, but things are starting to perk back up again here at Evolve Companies! We are beyond excited to begin reopening some of our favorite amenities for our residents—and just in time for warm weather!
What better way to celebrate than by sharing some of our favorite summer recipes that will be perfect for your next BBQ? When the grilling stations and pools are open at your community again, these recipes will be a great way to come together with friends and family (at a safe distance, of course). Be sure to check in with your community to find out what's opening and when, and enjoy these delicious additions to your next BBQ!
Who said barbeques were nothing more than burgers and buns? If you're ready to freshen things up this summer, these hot dog sliders from Taste of Home are the way to go.
You'll need:
3 tbsp lime juice
2 tbsp honey
¼ tsp salt
1 cup cubed fresh pineapple
1 cup cubed peeled mango
¼ cup finely chopped red onion
2 tbsp finely chopped sweet red pepper
12 hot dogs
12 hot dog buns
Directions:
In a small bowl, whisk the lime juice, honey and salt until blended. Add the pineapple, mango, pepper, and onion. Toss it all together until it's coated evenly. Grill your dogs, place in the buns, and cut each crosswise in half. Serve topped with your delicious mango-pineapple salsa.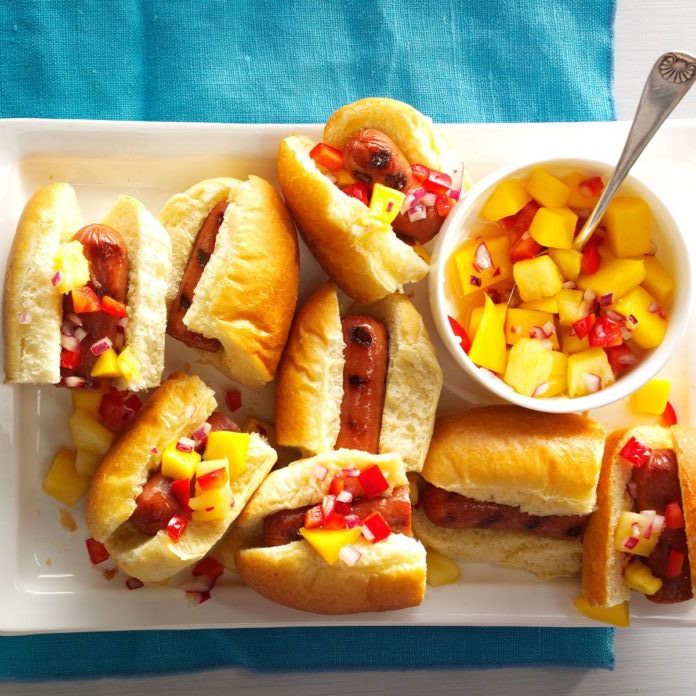 What says summer more than fruity sorbet in a cocktail? Not much! That summer heat always has us wanting something cool and refreshing to sip on, and we have just the thing! Try out this super simple cocktail from Joyful Healthy Eats at your next gathering or BBQ.
You'll need:
1 pint of raspberry sorbet
5-6 oz. vanilla vodka
1 bottle of rosé wine (try a Rosé Brut if you'd like bubbles)
Directions:
Add 1 oz. of vanilla vodka and a scoop of raspberry sorbet to a glass. Top it with rosé, and you're ready to enjoy!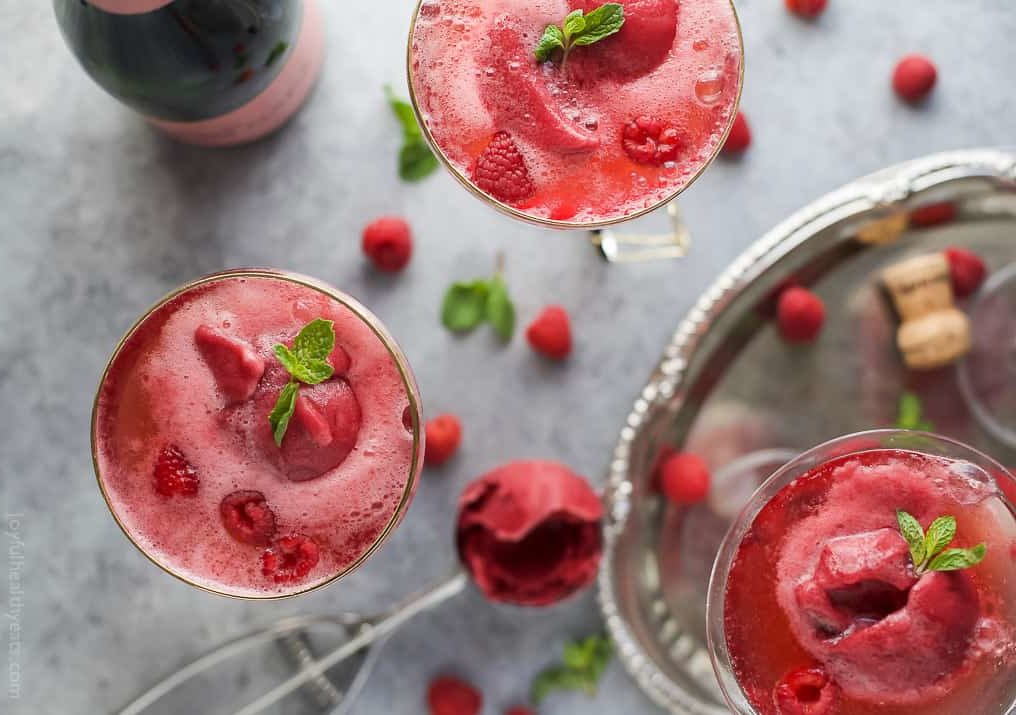 We all love guacamole, but sometimes you're just in the mood to spice it up a little bit, right?! This creamy avocado dip from Food Network is tangy, delicious, and the perfect way to kick things up a notch at your next BBQ!
You'll need:
1 firm-ripe avocado, pitted + cut into large chunks
¼ cup sour cream
3 tbsp grated Parmesan
Juice of 1 lime
Pinch of cayenne pepper
Kosher salt
Directions:
Process or blend the avocado, sour cream, Parmesan, lime juice, 1 tablespoon of water, cayenne, and ½ a teaspoon of salt in a food processor or blender until it's smooth and creamy. Serve it up!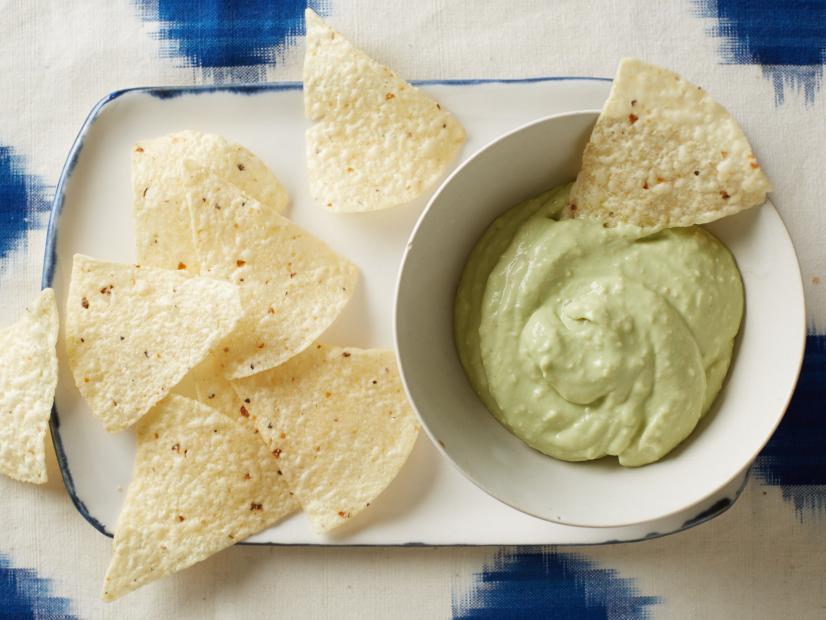 Creating a big salad with fresh fruit and herbs is one of our favorite things, so this watermelon strawberry caprese from Delish is the ultimate summer dream. Serve it paired with your favorite foods from the grill at your next BBQ and you will not be disappointed!
You'll need:
3 cups cubed watermelon
2 cups chopped strawberries
½ cup feta crumbles
¼ cup extra-virgin olive oil
Kosher salt
Freshly ground black pepper
¼ cup torn fresh basil
Directions:
In a large bowl, combine watermelon, strawberries, feta, and olive oil. Season with salt and pepper. Toss to coat, and garnish with basil before you serve!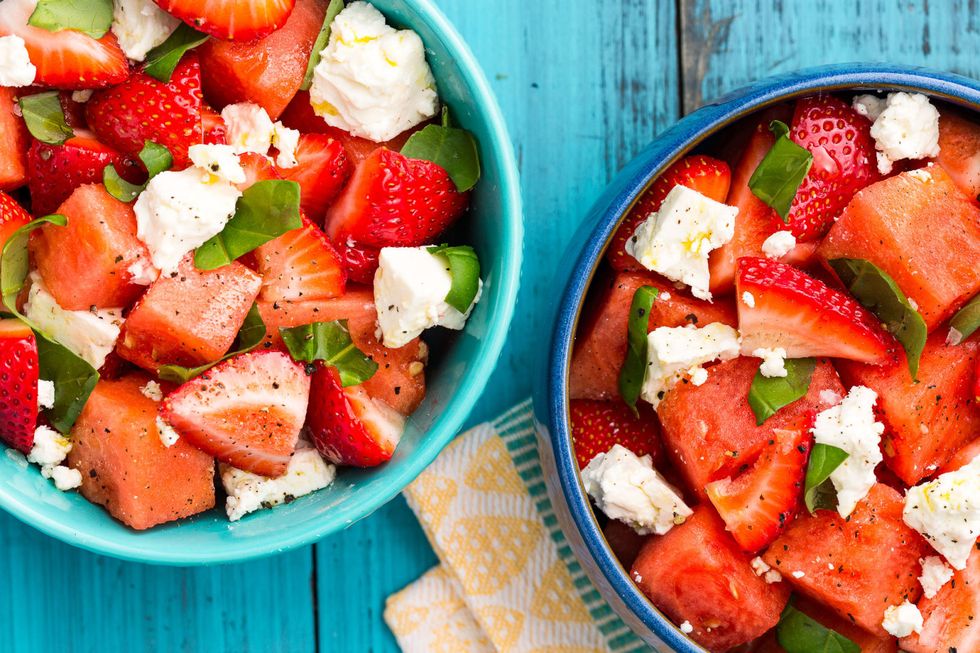 If there was ever a time for margaritas (and there usually is), it's summer. It's hard to beat a cooling marg on a hot summer day—especially when you add blueberries into the mix! This margarita pitcher from Simply Recipes is perfect for spending time outdoors with friends and family.
You'll need:
4 cups tequila blanco
2 cups orange liqueur (like Triple Sec or Cointreau)
1 cup lime juice
3 cups blueberries
A few sprigs of mint
Agave nectar or simple syrup (to sweeten if needed)
Ice
Kosher or flake salt (for rimming the glass)
Extra blueberries + lime wedges for garnish
Directions:
Add the tequila, orange liqueur, lime juice, and blueberries into a blender and pulse 8-10 times. Allow your ingredients to infuse for at least 30 minutes. Pour your mixture into a bowl, add the mint and muddle together. Allow that to infuse for five minutes. Pour your mixture through a fine mesh strainer into a pitcher with ice. Be sure to press the solid mixture into the strainer with the back of spoon to get all of the liquid out. Sweeten if needed, rim your glasses with salt, pour your margaritas, garnish with blueberries and lime, and serve them up!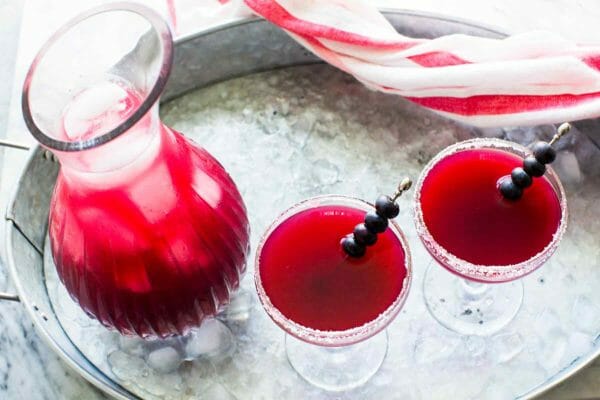 Fire up the grill for more than burgers and dogs this season. This Mexican street corn recipe from The Noshery is mouth-watering, and the perfect addition to your BBQ this summer!
You'll need:
Vegetable oil for brushing
6 ears shucked corn
¼ cup mayonnaise
¼ cup sour cream or Mexican crema
2 minced garlic cloves
½ cup queso fresco or cojita cheese crumbles
1 tsp chili powder
½ tsp cayenne pepper
½ cup finely chopped cilantro
Kosher salt
Lime wedges
Directions:
In a small bowl, mix the mayonnaise, sour cream and garlic, and set it aside. Spread cheese crumbles on a plate and set that aside. In another small bowl, combine the chili powder, cayenne pepper and 1 teaspoon of salt. Brush the grill grate with vegetable oil and heat grill to high heat. Grill the corn for about 10 minutes, until lightly charred. Immediately brush the corn with your mayonnaise mixture and roll it in the cheese crumbles. Sprinkle the corn with the chili powder mixture and cilantro. Squeeze lime over the corn and enjoy!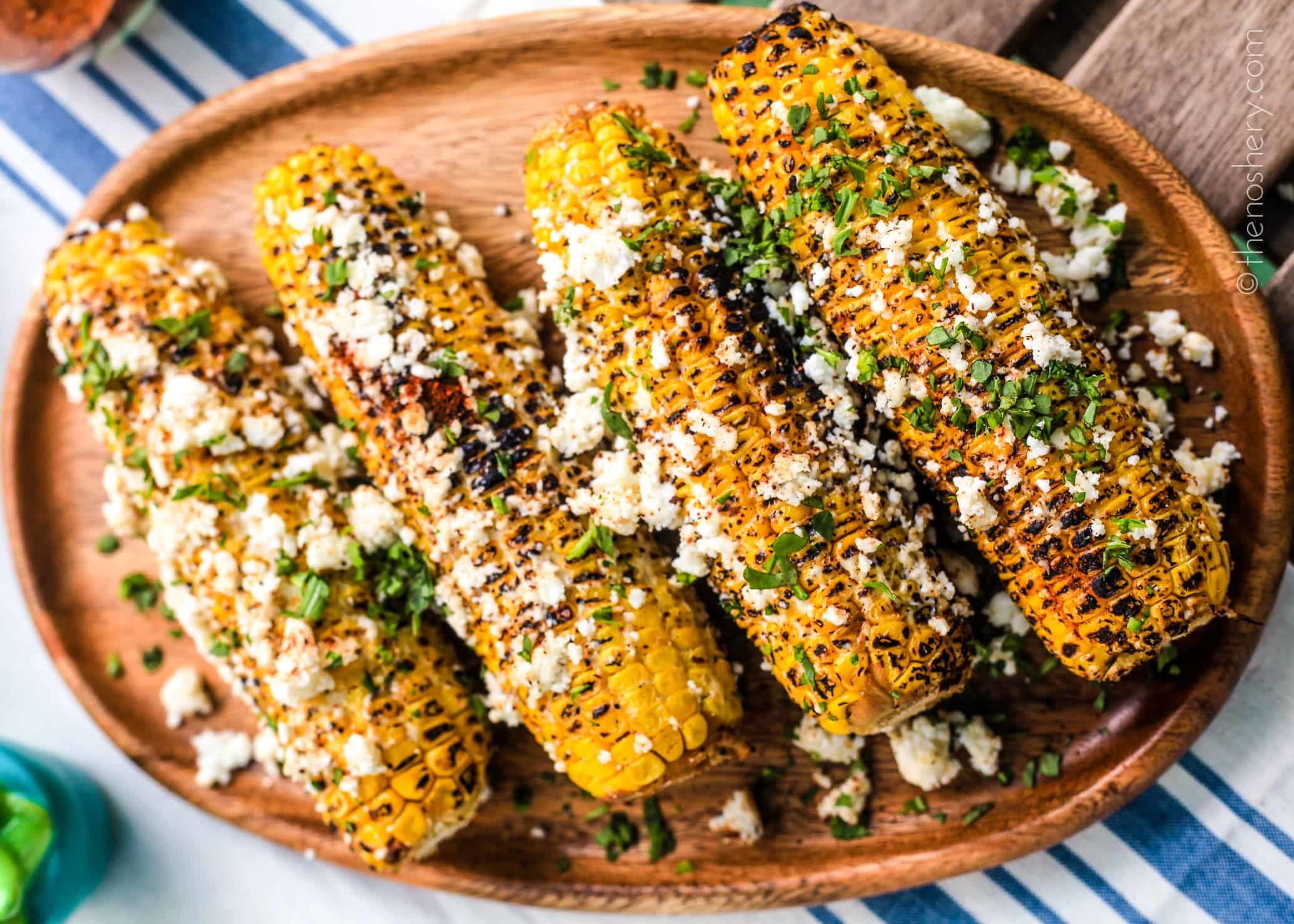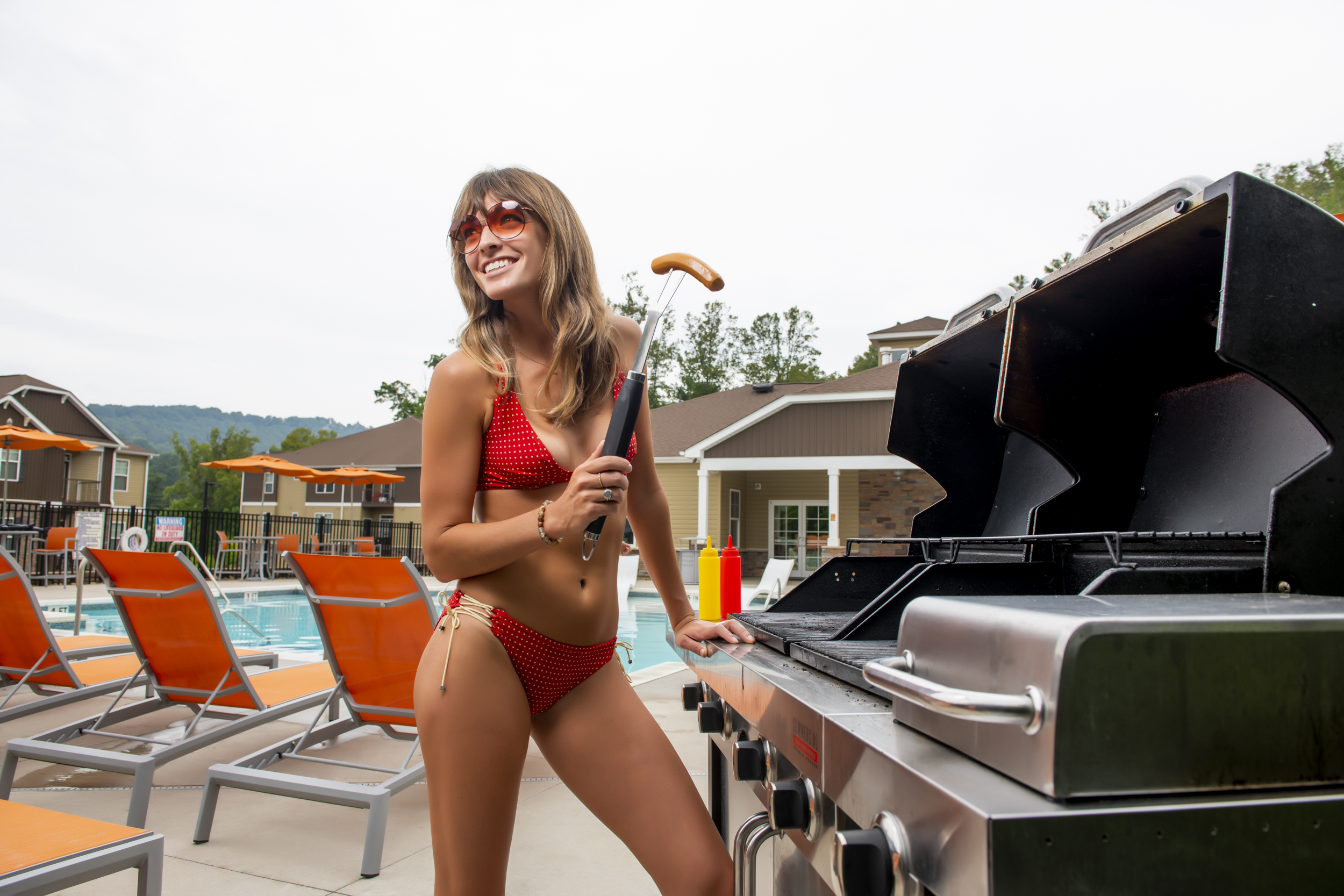 What are your favorite summer recipes?
As amenities begin to open back up at Evolve communities, it's a great time to get back to grilling with friends and family. What are some of your favorite go-to recipes you'll make while you're cooking with your crew this summer?
Summer Recipes to Get You Outdoors This Season
We would love to see which recipes you make this summer as grilling stations and pools begin to open. Tag us on IG so we can see how you #evolvethewayyoulive! Make sure you check in with your community to get the full scoop on amenities opening back up!